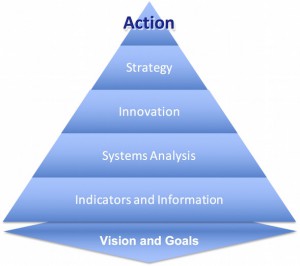 How can sustainability professionals navigate the jungle of sustainability techniques and change processes? How do we know when to apply them successfully?
Join us to learn a proven set of tools for helping individuals and organizations lead on sustainability. Classes start April 11th.
ISSP's April course will guide you through the AtKisson "Accelerator" toolbox, based on the VISIS Method (Vision, Indicators, Systems, Innovation, Strategy) as a powerful, open-source approach to helping individuals and organizations lead on sustainability. VISIS is a proven set of workshop, training, and analysis tools for getting groups and organizations oriented to sustainability; facilitating collaborative learning and planning; and helping sustainability "change agents" to be better ambassadors and leaders.
In this four-week interactive course, you will get a full introduction and virtual training in the use of these tools and methods by VISIS lead developer and ISSP Sustainability Hall of Fame inductee Alan AtKisson. AtKisson will explain the theory behind them, walk you through how to use them, and provide you with case studies and examples.
Participants will:
Learn the background behind VISIS and Accelerator, so that they are well grounded in the theory behind the application
Get instruction on how to put these tools and methods to work in a practical context
Get exposure to case studies and "behind the scenes" stories on how these tools work— including common pitfalls to avoid
Discuss sustainability transformation processes in general: key challenges, strategic approaches, lessons learned
Optionally generate a plan for a change/transformation project that incorporates use of the tools, and get feedback on that plan
Understand how to integrate these tools with other sustainability frameworks, principally the 17 Sustainable Development Goals (SDGs)
Discuss a few specific cases, brought to the class by participants, in a live "clinic" setting during the final session
INSTRUCTOR

Alan AtKisson, CEO, AtKisson Group & President, Center for Sustainability Transformation (and possible special guests). Alan is a senior advisor and author in the field of sustainability, sustainable development, and transformative change, with nearly 30 years of international experience. He consults to governments, leading companies, global NGOs, and the United Nations. He is the author is six books, most recently Parachuting Cats into Borneo - and other lessons from the Change Café, with co-author Axel Klimek (CEO of the Center for Sustainability Transformation, based in Germany). For details on Alan's background, see AlanAtKisson.com
SCHEDULE
This course is delivered online via four 1-hour live webinars and includes a 24/7 online 'classroom' experience. The webinars are scheduled for Wednesdays, April 11, 18, 25, and May 2, from 12:00 pm to 1:00 pm PT-US. Check your timezone here. Recordings of live webinars will be available for all registrants.
PRICES & CREDIT
ISSP Member: $40
ISSP Partner: $60*
Non-Member: $70
Successful completion of all course requirements will earn a passing grade and an individualized Certificate of Completion, along with 2 Continuing Education Units for ISSP-SA and ISSP-CSP credential holders.
*Registrants who are not ISSP members but hold current memberships in the U.S. Green Building Coundil (USBGC), Association for the Advancement of Sustainability in Higher Education (AASHE); Sustainability Tools for Assessing and Rating (STAR) Communities; the Urban Sustainability Directors Network (USDN); or the Association of Climate Change Officers (ACCO) may register using the ISSP Partner rate. You must use your institutional email address when registering in order to receive the discount.
Note that use of the Accelerator Tools requires agreement to the terms of use. Accelerator Lite is free, while use of Accelerator Pro is subject to professional licensing and payment of a licensing fee; prices vary by organization and region. Accelerator Pro is not required to complete this course.
Times below are Pacific Time US (Portland). Check for your timezone here.
April 11, 2018 12:00 PM through May 2, 2018 1:00 PM
| | |
| --- | --- |
| Registration | |
| General | $ 70.00 |
| Partner | $ 60.00 |