Learn to use a proven set of powerful open-source workshop, training, and analysis tools based on the VISIS (Vision, Indicators, Systems, Innovation, Strategy) Method. $30 ISSP member/$75 non-member. 2 CEU's for ISSP Credential Holders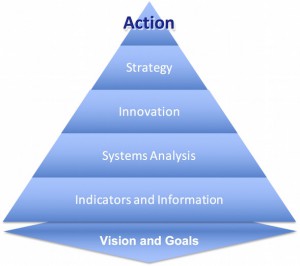 How can sustainability professionals navigate the jungle of sustainability techniques and change processes? How do we know when to apply them successfully?
Learn a proven set of tools for helping individuals and organizations lead on sustainability.
The VISIS Method — which stands for Vision, Indicators, Systems, Innovation, Strategy — is a powerful open-source approach to sustainability and sustainable development in practice. The
AtKisson
"Accelerator", a toolbox built on the architecture of VISIS, is a proven set of workshop, training, and analysis tools for getting groups and organizations oriented to sustainability; facilitating collaborative learning and planning; and helping sustainability "change agents" to be better ambassadors and leaders. "Accelerator Lite" is a free version, appropriate for educational and non-profit use; "Accelerator Pro" is the version used by consultants and in-house change leaders on sustainability. Both VISIS and Accelerator have spread to many countries, with decades of experience behind them.
In this self-guided workshop, you will get a full introduction and virtual training in the use of these tools and methods by lead developer
Alan
AtKisson
(an inductee in ISSP's Sustainability Hall of Fame).
AtKisson
will explain the theory behind them, walk you through how to use them, and provide you with case studies and examples.
Participants will:
Learn the background behind VISIS and Accelerator, so that they are well grounded in the theory behind the application
Get instruction on how to put these tools and methods to work in a practical context
Get exposure to case studies and "behind the scenes" stories on how these tools work
Consider sustainability transformation processes in general: key challenges, strategic approaches, lessons learned
Understand how to integrate these tools with other sustainability frameworks, principally the 17 global Sustainable Development Goals (SDGs) agreed to by all nations in 2015
INSTRUCTOR

Alan AtKisson has over 30 years of experience in sustainable development and has advised many governments, companies, global NGOs, and the United Nations. He is the author is six books, most recently Parachuting Cats into Borneo - and other lessons from the Change Café, with co-author Axel Klimek . For details on Alan's background and current work, see AlanAtKisson.com
PRICES & CREDIT
ISSP Member: $30
Non-Member: $75
Successful completion of all workshop requirements will earn a passing grade and an individualized Certificate of Completion, along with 2 Continuing Education Units (CEUs) for ISSP-SA and ISSP-CSP credential holders.
Note that use of the Accelerator Tools requires agreement to the terms of use. Accelerator Lite is free, but use of Accelerator Pro is subject to professional licensing and payment of a licensing fee. Prices for Accelerator Pro vary for corporate, public/institutional, or non-profit sectors; and they also vary by what region of the globe you live and work in. Note that all revenues from sales of licenses for the Accelerator tools go to support the educational programs of Compass Education, a non-profit organization based in the US and Thailand, which trains teachers, students, and administrators around the world in sustainability and systems thinking.
July 10, 2018 10:30 AM through July 1, 2022 12:00 AM
| | |
| --- | --- |
| Self-Study Workshop | $ 75.00 |