This Week's News
We live in a fast-changing world, with a linear economy that relies on a once-through model of extraction, production, retail, usage and disposal.  While this model has been very successful in providing access to affordable goods to consumers, the commercial, environmental, social and political risks related to it are increasing rapidly.  So how do we do better?
Join us on on Thursday, March 22nd as we sit down with Tessa Vlaanderen, the founder of Circular Futures, a New York City-based consulting group and think tank, and Sue Ide, ISSP-SA, to discuss the circular economy - what it is, how it works, and how it is being implemented in New York City and elsewhere.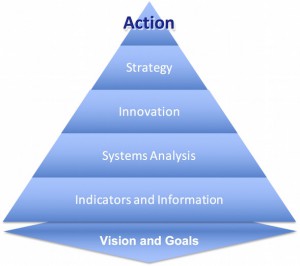 How can sustainability professionals navigate the jungle of sustainability techniques and change processes? How do we know when to apply them successfully? ISSP's 4-week April course teaches the VISIS Method (Vision | Indicators | Systems | Innovation | Strategy) as a guiding structure and sequence for sustainability tools.
Taught by expert sustainability consultant and author and ISSP Sustainability Hall of Fame inductee Alan AtKisson, the course will teach participants to apply the VISIS Method and its underlying theory to develop a sustainability project or initiative, as well as produce and implement a detailed strategic action plan. Participants will dig into case studies, examine the inner workings of selected tools, and consider the ethical dimension of strategy development.
Recordings will be available for those who cannot attend live. ISSP credential holders who pass the course will earn 1 CEU. The course is $40 for ISSP members. Register today!
ISSP Credentialing Program Turns One on Heels of the Organization Joining Forces with GBCI
ISSP is celebrating the one-year anniversary of launching its Sustainability Professional Credential Program.  This milestone comes on the heels of the organization joining forces with Green Business Certification Inc. (GBCI) to advance green and sustainable business practices through professional credentialing.  Among the program's main findings is that the new credentials are helping holders make career and industry changes like MBAs have for years. Read more here.
Join ISSP's virtual Regional Learning Networks
We're thrilled to announce our new ISSP Regional Learning Network, where ISSP members from all over the world gather to share ideas, learn from each other, and build community.  If you want to be part of a Regional Learning Network in your area, let us know by filling out the Regional Learning Network Interest Form.  If you'd like to help plan and facilitate future virtual meetings for your area, volunteer to be an ISSP Ambassador.
What's New In Sustainability?
Every month, we send out a newsletter packed with news and information to more than 9,000 people worldwide. If you're not already signed-up for a free subscription, you can do so now. You can also check out our March 2017 issue and our archive of past issues.